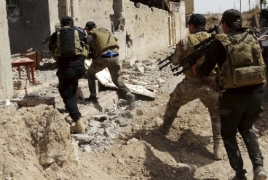 February 9, 2016 - 16:18 AMT
PanARMENIAN.Net - Iraqi forces recaptured territory from Islamic State militants on Tuesday, February 9 which links the recently recaptured city of Ramadi to a major army base in western Iraq, the military said, according to Reuters.
A statement broadcast on state television said the army, police and counter-terrorism forces had retaken several areas including the town of Husaiba al-Sharqiya, about 10 km east of Ramadi.
"(Our forces) also managed to open the road from Ramadi to Baghdad which passes through al-Khaldiya," the statement added, referring to a highway that links the city to the Habbaniya base where U.S.-led coalition forces are located.
Iraq's army declared victory in December over Islamic State in Ramadi, the provincial capital west of Baghdad. It was the first major gain for the U.S.-trained force since it collapsed in the face of an assault by the militants in 2014.
Government forces are still dismantling bombs planted in Ramadi, and much of the city's infrastructure needs to be rebuilt.
Tuesday's advance boosts government efforts to close in on Falluja, the Islamic State stronghold located between Ramadi and Baghdad which is besieged by the army and Iranian-backed Shi'ite militias.