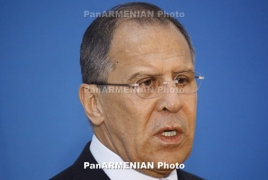 April 4, 2016 - 14:44 AMT
PanARMENIAN.Net - Moscow does not accuse Ankara of escalation in Nagorno Karabakh, Russian Foreign Minister said Monday, April 4.
"We do not blame any external players, including Turkey, for provoking the current outbreak of tensions," TASS cited Sergey Lavrov as saying.
"We, however, have noticed attempts (to disrupt the peace process) by those who are not satisfied with the basic approaches to the Nagorno Karabakh settlement," Lavrov said.
"I can't pass judgement on the role that Turkey did or did not play, or continues playing with regard to Nagorno Karabakh. But Ankara had better focus on ending support for terrorism," the official said.
Commenting on Karabakh, the Minister ruled out military solution to the conflict.
On the night of April 1-2, Azerbaijani armed forces initiated overt offensive operations in the southern, southeastern and northeastern directions of the line of contact with Nagorno Karabakh.
As many as 18 Karabakh servicemen were killed and 35-40 were wounded in the course of military operations. A civilian, 11-year-old Vaghinak Grigoryan was also killed, with 6 other civilians, including two kids, wounded, Besides, three elderly Armenians were brutally killed in Talish.
As of April 4, the Azerbaijani side has lost 20 tanks and over 5 armored vehicles, including an IFV, as well as 1 TOS-1A Solntsepyok multiple rocket launcher, 2 military helicopters and 6 unmanned aerial vehicles.
One Karabakh tank has been destroyed so far.
Read also:Artsakh recognition by int'l community most appropriate step now: FM