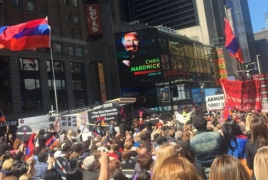 April 25, 2016 - 10:22 AMT
PanARMENIAN.Net - Thousands gathered in Times Square on Sunday, April 24 to commemorate the 101st anniversary of the Armenian Genocide as supporters, many draped in the Armenian flag, called for more official recognition of the Genocide, AM New York reports.
Many people wore T-shirts commemorating the Genocide and several people held signs, like "End Denial."
The Genocide claimed the lives of 1.5 million Armenians from 1915 to 1923, according to the Armenian Assembly of America.
"It's more important for [my kids] to continue this, just to be part of this," said Bergen County, N.J., resident Violette Dabaghian, 50. "I tell it to them all the time, you just can't forget it. It happened."
Dabaghian said her grandmother was a survivor of the Genocide, allowed to live because her great-grandfather was a doctor and was forced to treat soldiers.
Sen. Charles Schumer called it "an outrage" that the Genocide wasn't recognized as it should be.
"We owe it to those who cannot speak for themselves," Schumer said, speaking to the crowd. "Every time Genocide occurs we say never again and we must. The Statue of Liberty stands for something, and one of the things it stands for is remembering the genocide done to the Armenian people."