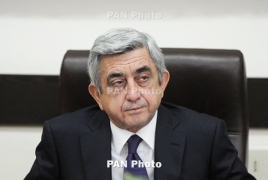 June 1, 2016 - 12:55 AMT
PanARMENIAN.Net - Germany bears historic responsibility for the Armenian Genocide of 1915, Armenian President Serzh Sargsyan said in an interview with Bild.
"The German Empire, which was allied with Turkey at the time, witnessed those crimes and could take steps to prevent them. But it did nothing," Sargsyan said.
According to the President, Bundestag's recognition of the Genocide is crucial for Armenia.
On June 2, the Bundestag intends to approve a resolution condemning the century-old Ottoman massacre of Armenians by describing it as genocide. The majority of foreign policy specialists from the relevant parties have given a clear signal that they will support the resolution.
"No German politician denies the Genocide even if some of them fail to publicly acknowledge the historical facts," Sargsyan said.
Also, Sargsyan weighed in on the fate of the controversial EU-Turkey migrant deal following a possible Genocide recognition by the Bundestag, noting that the agreement is extremely difficult to implement with such a partner as Turkey.