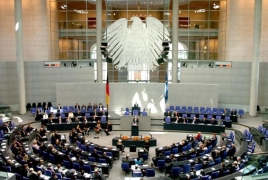 June 2, 2016 - 13:30 AMT
PanARMENIAN.Net - German Chancellor Angela Merkel and the two most senior Social Democrat ministers — Vice Chancellor Sigmar Gabriel and Foreign Minister Frank-Walter Steinmeier — will not be in Parliament for the vote on the recognition of the Armenian Genocide, The New York Times reports.
Germany is looking to adopt a resolution, titled "Remembrance and commemoration of the Genocide of Armenians and other Christian minorities in the years 1915 and 1916" Thursday, June 2.
All of them cited prior government business in Germany or abroad.
The bill, however, is backed by Merkel's conservative bloc and her center-left partners in the coalition government.
To date, 11 of the European Union's 28 members have recognized the Armenian killings as genocide and, despite initial protests, Turkey has maintained good relations with several of those countries.
All the parties sponsoring the resolution have argued that it is not Germany lecturing the Turks, but a step intended to foster reconciliation between Turks and Armenians by encouraging them to examine their history, NYT says.