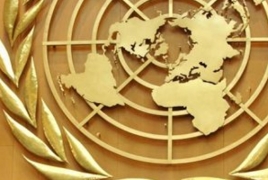 June 15, 2016 - 13:48 AMT
PanARMENIAN.Net - Armenia was included in the list of 21 countries that will assume vice-presidency at the 71st session of the United Nations General Assembly.
The Assembly also elected by secret ballot 20 other Vice-Presidents of its plenary Belgium and Germany from Western Europe, Congo, Ivory Coast, Djibouti, Mauritania, Nigeria and Zambia from Africa, Bangladesh, Nepal, Solomon Islands and Turkmenistan from Asia and the Pacific, the Bahamas, Belize and El Salvador from Latin America and the Caribbean Basin, the UN said.
The five permanent members of the UN Security Council – China, France, Russia, the United Kingdom and the United States – are also among the 21 vice-chairing countries.