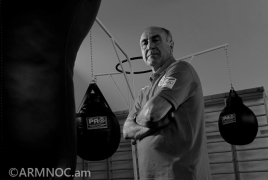 July 12, 2016 - 11:27 AMT
PanARMENIAN.Net - Armenia's boxing team will have 5 participants in the 2016 Rio Olympics for the first time ever. Chief coach Karen Aghamalyan said such a result was surprising even for him.
"To be honest, it was unexpected but, as they say, appetite comes with eating," Armenia's National Olympic Committee cited him as saying.
"The guys did their best, and I am especially happy about [Hovhannes] Bachkov, who I was sure from the very beginning would qualify."
Bachkov (64kg) defeated Volodymyr Matviychuk from Ukraine at the APB/WSB Olympic Qualification Tournament in Venezuela to reach the finals and win an Olympic berth.
In response to a question on whether it would be hard to fight against professionals who are also participating in the Olympics, Aghamalyan said: "I think professionals aren't that good athletes. Bachkov's victory is a vivid example. A number of world champions have failed to win Olympic medals on a number of occasions, so one needs sports luck to gain one."