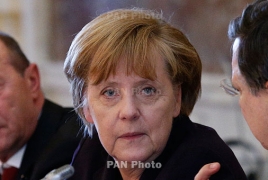 July 18, 2016 - 15:27 AMT
PanARMENIAN.Net - Germany warned Turkey on Monday, July 18 against reinstating the death penalty, as it blasted "revolting scenes of caprice and revenge" in the wake of a failed coup attempt, AFP says.
In strongly worded remarks, Chancellor Angela Merkel's spokesman Steffen Seibert told reporters that Berlin had grave questions about President Recep Tayyip Erdogan's response to the foiled military takeover.
After Erdogan said Sunday that Turkey would consider a return of capital punishment, Seibert said such a move "would mean the end of EU membership talks."
Seibert said the EU was a "community of laws and values" with which capital punishment was not compatible.
"Germany and the EU have a clear stance: we categorically oppose the death penalty. A country with the death penalty cannot be a member of the EU," he said.
He urged a proportionate response from the government in Ankara.
"In the first hours after the failed coup, we witnessed revolting scenes of caprice and revenge against soldiers on the streets," Seibert said. "That cannot be accepted."
Seibert reiterated that Germany "condemns" the attempted takeover but stressed that the response by the Turkish government needs to be "proportionate" and "based on the rule of law."
"In that context, we need to say clearly: it raises profound and worrisome questions when on the day after the coup attempt, 2,500 judges are removed from their posts," he said, according to AFP.
Turkey abolished the death penalty in 2004 under reforms aimed at obtaining European Union membership.