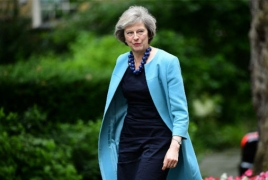 August 27, 2016 - 11:47 AMT
PanARMENIAN.Net - Theresa May will not hold a parliamentary vote on Brexit before opening negotiations to formally trigger Britain's withdrawal from the European Union, The Telegraph reports.
Opponents of Brexit claim that because the EU referendum result is advisory it must be approved by a vote in the Commons before Article 50 - the formal mechanism to leave the EU - is triggered.
However, in a move which will cheer Eurosceptics, The Telegraph has learned that May will invoke Article 50 without a vote in Parliament
It had been suggested - by Tony Blair, the former Labour Prime Minister, and Owen Smith, the Labour leadership candidate, among others - that Remain-supporting MPs could use a Parliamentary vote to stop Brexit.
But sources say that because May believes that "Brexit means Brexit" she will not offer opponents the opportunity to stall Britain's withdrawal from the EU.
A Downing Street source said: "The Prime Minister has been absolutely clear that the British public have voted and now she will get on with delivering Brexit."
May has consulted Government lawyers who have told the Prime Minister she has the executive power to invoke Article 50 and begin the formal process of exiting the European Union without a vote in Parliament.
Her decision will come as a blow to Remain campaigners, who had been hoping to use Parliament to delay or halt Brexit entirely.