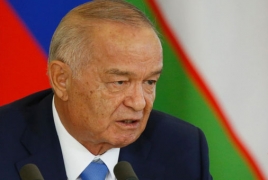 September 3, 2016 - 10:49 AMT
PanARMENIAN.Net - Uzbekistan is preparing to bury President Islam Karimov, one of Asia's most authoritarian leaders, who died this week aged 78, BBC News said.
His death was confirmed by the government in Tashkent on Friday, September 2 six days after he was taken to hospital following a stroke.
He ruled for 27 years, and is accused by human rights groups of harshly repressing dissent.
Saturday's funeral comes amid uncertainty over who will succeed him. However, the occasion - in Karimov's home city of Samarkand - will be overseen by Prime Minister Shavkat Mirziyoyev, seen as a potential successor.
Three days of mourning are being observed.
A United Nations report has described the use of torture under Mr Karimov as "systematic".
The late leader often justified his strong-arm tactics by highlighting the danger from Islamist militancy in the mainly Muslim country, which borders Afghanistan.
The official announcement of Islam Karimov's death came on Friday night. But Turkey's PM had sent condolences to Tashkent hours earlier - live on television - saying that the Uzbek leader had already died.
The Georgian president soon followed suit. The government in Tashkent has now released a medical report saying that Karimov suffered a massive stroke last weekend and never regained consciousness. He died on Friday after his heart stopped for a second time, the statement says, and a team of doctors - including foreign specialists - could not resuscitate him.
Islam Karimov ruled for more than a quarter of a century, without naming a successor, so his death could well spark a struggle for power behind the scenes.
U.S. President Barack Obama said in a statement the U.S. remained "committed to partnership with Uzbekistan, to its sovereignty, security, and to a future based on the rights of all its citizens. for the people of Uzbekistan".
Expressing his condolences in a statement (in Russian), Russian President Vladimir Putin described Mr Karimov as a statesman "who had contributed to the security and stability of Central Asia" and who would be a "great loss for the people of Uzbekistan".