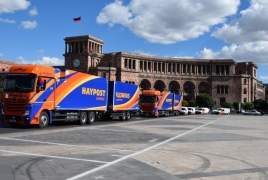 September 29, 2016 - 17:31 AMT
PanARMENIAN.Net - The National Postal Operator of Armenia HayPost CJSC announced on Thursday, September 29 the launch of an unprecedented service in Armenia. Starting from October 1, HayPost will carry out regular scheduled mail and cargo transportations to and from Europe.
The new program and the vehicles imported for its implementation were presented on September 29 at Yerevan's central Republic Square. The Minister of Transport and Communication Vahan Martirosyan and the Managing Director of HayPost Trust Management B.V. Juan Pablo Gechidjian handed the symbolic keys to the drivers, wishing them a safe journey.
The new service is meant to expand connectivity in Armenia by means of weekly mail and cargo transportation from Yerevan to the hub in Frankfurt and vice versa. This innovative reliable, fast and secure service facilitates the process of export and import of products to and from Armenia, enabling the Armenian companies to enlarge their business. Also, the new service will help dramatically increase the volumes of the online commerce in Armenia.
In order to provide the new service, HayPost introduced 2 brand-new Mercedes-Benz Actros 2530 GigaSpace 6×4 trucks with 530 horsepower, with the capacity to carry 27 tons of cargo each.
The trucks boast the latest equipment from the industry leaders and provide the drivers with the most comfortable conditions for a long-distance drive. The flexible configuration of the refrigerated cargo holds allows the transportation of both perishable and general cargo. The trucks correspond to the highest European Euro-6 emission standards, ensuring the lowest level of CO emissions.
Besides, HayPost has acquired 12 brand-new Renault Dokker vansto ensure better communications inside Armenia. The vans are eco-friendly, they run on compressed natural gas, minimizing the level of CO emissions.
A total of about $1 million has been invested to get the new vehicles.
The new service announced on Thursday continues the series of innovations made by the Trust Manager of HayPost. During the last 7 years, the company has added 140 new vehicles to its fleet. The latter, by the way, covers 3.500.000 km per year, interconnecting the whole territory of Armenia, also reaching Nagorno Karabakh. The Company has also renovated 250 Post Offices all over the country and created the largest online network in Armenia, with more than 700 Post Offices available today.