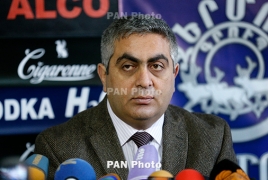 November 5, 2016 - 17:42 AMT
PanARMENIAN.Net - $30 billion is needed for upgrading Armenia's entire arsenal, Defense Ministry spokesman Artsrun Hovhannisyan said Friday, November 4.
Addressing the seminar Tech-Friday in Gyumri, Hovhannisyan stressed the importance of qualified personnel among the armed forces.
"We pay more attention to having accomplished sergeants, officers and other senior military staff who can make the right decisions," the military said.
"When there aren't enough resources,we shift the focus on the efficient use of the existing tools."
"Ammunition is constantly being updated in the Armenian army, this process was underway long before the events in early April," Hovhannisyan said referring to the large-scale offensive unleashed by Azerbaijan against Karabakh in spring.
"The most conservative estimates show we need $30 billion to upgrade all of Armenia's arsenal. And even if we had the money, we would still be unable to acquire weapons and ammunition equivalent to such an amount."