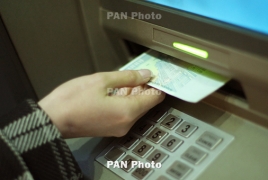 November 22, 2016 - 10:41 AMT
PanARMENIAN.Net - Cyber criminals have remotely attacked cash machines in more than a dozen countries across Europe, including Armenia, this year, using malicious software that forces machines to spit out cash, Reuters reports citing Russian cyber security firm Group IB.
Diebold Nixdorf and NCR Corp, the world's two largest ATM makers, said they were aware of the attacks and have been working with customers to mitigate the threat. The newly disclosed heists across Europe follow the hacking of ATMs in Taiwan and Thailand that were widely reported over the summer.
The recent heists in Europe and Asia were run from central, remote command centers, enabling criminals to target large numbers of machines in "smash and grab" operations that seek to drain large amounts of cash before banks uncover the hacks.
"They are taking this to the next level in being able to attack a large number of machines at once," said Nicholas Billett, Diebold Nixdorf's senior director of core software and ATM Security. "They know they will be caught fairly quickly, so they stage it in such a way that they can get cash from as many ATMs as they can before they get shut down."
Group IB declined to name banks that were "jackpotted," a term used to describe forcing ATMs to spit out cash, but said the victims were located in Armenia, Belarus, Bulgaria, Estonia, Georgia, Kyrgyzstan, Moldova, the Netherlands, Poland, Romania, Russia, Spain, Britain and Malaysia.Indeed, Dmitry Volkov, head of threat intelligence with Group IB, told Reuters he expects more heists on ATMs.