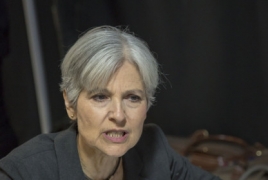 November 26, 2016 - 12:53 AMT
PanARMENIAN.Net - An election recount will take place soon in Wisconsin, after former Green Party presidential candidate Jill Stein filed a petition Friday, Nov. 25 with the state's Election Commission, the first of three states where she has promised to contest the election result, The Washington Post reports.
The move from Stein, who raised millions since her Wednesday announcement that she would seek recounts of Donald Trump's apparent election victories in Wisconsin, Pennsylvania and Michigan, came just 90 minutes before Wisconsin's 5 p.m. Friday deadline to file a petition. Now it will keep some hope alive for many Hillary Clinton supporters for another few weeks while Wisconsin recounts ballots before a Dec. 13 deadline.
Trump scored upset victories in Wisconsin and Pennsylvania, and seems on the path to declare a victory in Michigan as well, though the result of the election in that state will not be certified officially until Monday. Had Clinton won those three states, previously seen as part of the Democrats' "firewall," she would have secured enough electoral votes to win the election.
Stein announced her intention to file the petition following reports that a group of data experts and election lawyers were urging Clinton to demand a recount in those three states, on suspicion that a cyberattack could have manipulated the results of the election in those states. While the group had no specific proof of hacking, they noted anomalies suggesting Clinton routinely did more poorly in Wisconsin counties that used voting machines, as opposed to those that relied on paper ballots.
Trump secured a total of 1,404,000 votes in Wisconsin, according to the commission; Clinton had 1,381,823.
In the end, Stein, who secured 31,006 votes in Wisconsin, was not the only presidential candidate to demand a recount. Roque "Rocky" De La Fuente, the Reform Party nominee who got 1,514 Wisconsin votes, also filed a recount petition, according to the state's Election Commission.