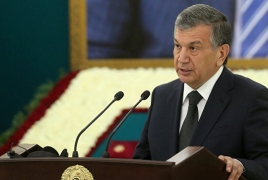 December 5, 2016 - 16:09 AMT
PanARMENIAN.Net - Uzbekistan's Central Election Commission says that acting President Shavkat Mirziyaev won the December 4 presidential election with more than 88 percent of the vote, RFE/RL said.
The vote was called to determine a new leader following the death in early September of longtime autocratic ruler Islam Karimov.
The official turnout was 87.83 percent, with more than 17.9 million out of some 20 million eligible voters taking part.
The Organization for Security and Cooperation in Europe's Office for Democratic Institutions and Human Rights (ODIHR) said in a statement on December 5 that the presidential election underscored "the need for comprehensive reforms" in the country.
None of the six previous post-Soviet elections observed in Uzbekistan by ODHIR monitors has been deemed democratic and fair.
Mirziyaev, who had been the country's prime minister since 2003, was widely expected to win a five-year term after he moved quickly to consolidate his power in the wake of Karimov's death.
The 59-year-old was made acting president six days after Karimov's death was announced, circumventing a constitutional process under which the upper parliament house speaker is supposed to take charge.
Mirziyaev has said that he intends to largely follow the political course of Karimov.
There were three other candidates on the ballot: Khatamjon Ketmanov of the People's Democratic Party, Sarvar Otamuratov of the Milliy Tiklanish (National Revival) Democratic Party, and Nariman Umarov of the Adolat (Justice) Social Democratic Party.
All three supported the government.