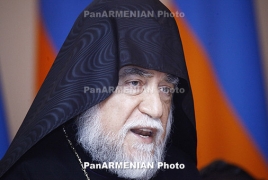 December 6, 2016 - 12:42 AMT
PanARMENIAN.Net - The Great House of Cilicia is going to file an appeal with the European Court of Human Rights (ECtHR) seeking to return the Armenian Catholicosate of Sis.
This will be the first legal move against Turkey, the Catholicosate said in a Facebook post.
The Cilician Catholicosate filed a lawsuit with the Turkish Constitutional Court on April 27, 2015, demanding the return of its historic seat in Sis, Kozan district of Turkey's Adana province. The Cilician See's former headquarters, established in 1293, was confiscated by the Turkish government in 1921, at the culmination of the Armenian Genocide.
The Turkish Constitutional Court sought to learn the Ministry's stance, which, however, demanded to reject the claim.
Catholicos Aram I announced then that should the Turkish court reject the lawsuit, the Catholicosate intends to appeal the ruling to the European Court of Human Rights, which requires that all domestic legal remedies are exhausted before it considers appeals on cases filed against Council of Europe members states.