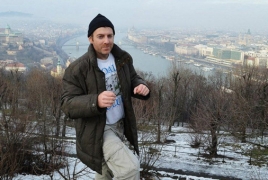 January 10, 2017 - 13:03 AMT
PanARMENIAN.Net - Israeli officials are increasingly concerned that Azerbaijan is close to succeeding in having a popular Ukrainian-Israeli travel blogger extradited from Belarus, where he was arrested last month, The Times of Israel reports.
The Azerbaijan prosecutor's office said in a statement that it had presented documents to Belarus for the extradition of Alexander Lapshin, 40, a dual Israeli-Russian citizen.
Fears over his fate in Jerusalem were first reported by Israeli daily Haaretz and later confirmed to The Times of Israel by Foreign Ministry officials.
Last month, Azerbaijan issued an international arrest warrant for Lapshin on charges of "violating the state border" over his visit to Nagorno Karabakh along the Armenian border "without coordinating" with the authorities in the capital, Baku.
Reports in Hebrew-language media said Lapshin had also published Russian-language blogs critical of Azerbaijani President Ilham Alyev.
He was arrested in Minsk on December 13.
Lapshin's family say security forces in Belarus are trying to pressure him into signing an agreement to be extradited. Should he sign such a document he would lose his right to later appeal against extradition. His family fears for his life if he is taken back to Azerbaijan.
His wife, Ekaterina Kopylova, told Haaretz that shortly after December 25 two security men went into his cell and told Lapshin that his extradition request had been received in Belarus. They then offered him a deal that if he agrees to the extradition he will be sent to Baku but then immediately given over to Israeli officials and taken back to Israel. The next day Lapshin was moved to a very cold cell.
Kopylova stressed that her husband was not given anything in writing, and the offer was made verbally without any legal representative or officials from the Israeli consul. The men also showed him no official documents. Kopylova said she later checked with the Israeli Embassy in Minsk, which told her that no such agreement existed, as did the Foreign Ministry in Jerusalem.
Kopylova said Israeli officials have been denied visits to him in jail.
"The Azeris want to make an example of Lapshin," an Israeli Foreign Ministry official said according to the Haaretz report. "This incident could turn into a serious mishap in our relations with them,"
Israel has in the past asked Belarus not to hand Lapshin over to Azeri authorities but Baku officials made it clear that the government has "no intention" of withdrawing the extradition request.