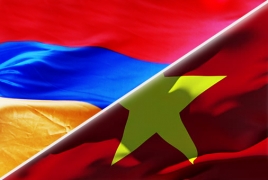 February 3, 2017 - 14:51 AMT
PanARMENIAN.Net - Vietnam began granting electronic visas for foreign citizens from 40 countries worldwide, including Armenia, as from February 1, the Vietnam News Agency (VNA) reports.
According to the state news agency, the government approved the corresponding decree on January 25. Application and payment procedures will thus be performed online. It will take 3 days to process application for an e-visa valid for 30 days. The visa does not require letters of guarantee or invitation.
Besides Armenia, other countries listed on the decree are Azerbaijan, Argentina, Ireland, Poland, Belarus, Bulgaria, Brunei, South Korea, Germany, Chile, China (not applicable to Chinese e-passport holders), Colombia, Czech Republic, Cuba, Denmark, Timor Leste,United States of America, Hungary, Greece, Italy, Kazakhstan, Russia, United Kingdom, Luxembourg, Myanmar, Mongolia, Japan, Panama, Peru, Finland, France, The Philippines,Romania, Spain, Sweden, Uruguay, Venezuela, Norway, and Slovakia.
The granting of normal visa will still be implemented in line with regulations of the Law on Entry, Exit, Transit, and Residence for Foreigners in Vietnam.