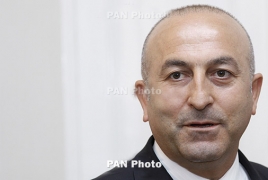 March 9, 2017 - 11:54 AMT
PanARMENIAN.Net - Following tension escalated between Germany and Turkey over the latter's insistence to carry on political campaign to persuade Turks abroad for "yes" vote in April 16 referendum, Turkish government gets into diplomatic unrest with the Netherlands in the meantime, Xinhua reports.
Turkish Foreign Minister Mevlut Cavusoglu had a phone conversation with his Dutch counterpart Bert Koenders on Wednesday about his planned visit to Rotterdam where he wanted to address Turkish voters on March 11 at a political demonstration to convince about 240,000 eligible Turkish voters, much against the wishes of the Dutch government.
On Wednesday, March 8 the mayor of Rotterdam, Ahmed Aboutaleb, said the owner of the location, where the Turkish minister was planning to hold the rally, had revoked permission for the gathering.
"The visit constitutes risk for public peace and security as the polarization could lead escalation of tension," he said in a letter quoted by Dutch ANP Agency.
The Dutch ANP Agency on late Wednesday reported that the minister's visit was canceled.
Last week, the government of the Netherlands said it opposed plans by Turkish politicians to hold a referendum campaign rally in Rotterdam and informed Turkey its position.
Dutch Prime Minister Mark Rutte said the Turkish minister's visit, planned for just four days before the Dutch general elections, was "undesirable."
The Netherlands will head to the polls on March 15 for general elections that is widely viewed as a bellwether for broader trends in Europe ahead of votes in France and Germany later this year, as the Dutch vote could give a boost to anti-establishment populist parties across Europe.
Far-right leader Geert Wilders from Party for Freedom (PVV) conducts a campaign against Turkish politicians' plans to rally in his country, saying "Dutch public spaces are not the place for both".
"We cannot allow Turkish ministers to come to the Netherlands and lobby in our country for such a regime. We would not allow North Korea or Saudi Arabia to lobby either," he told reporters.
Wilders said he wanted the Turkish ministers to be temporarily declared as "unwanted man" until referendum in Turkey.
Turkish Foreign Minister Cavusoglu earlier said the Dutch government had informed him that the situation was "complicated" for them and it would be better if the visit was delayed.
"But they firstly made a populist post in a social network and then they secretly informed us on the situation. Such behavior does not fit allies and partners. Of course, we consider such behavior unacceptable," the minister said on Tuesday, adding that Dutch officials informed the Turkish side that in case he visited the Netherlands, it would benefit Wilders.
The minister faced similar approach from Germany but found the formula to address Turks in Hamburg at the Turkish Consulate General after permissions of two halls in the city were cancelled, the fourth such cancellation in the past weeks for Turkish politicians seeking to hold rallies in Germany.
The unnamed ban on Turkish politicians led to the biggest political tensions between Germany and Turkey in recent years.
Cavusoglu on Tuesday night delivered a speech from the balcony of the Turkish consul's residence in Hamburg and said "Germany maintains a systematic antagonism against Turkey."
The Turkish minister then met with his German counterpart Sigmar Gabriel in a bid to calm down spat. The foreign ministers of the two countries gave softening signals after their first meeting in the capital Berlin.
Speaking to reporters, both Gabriel and Cavusoglu stressed they want to maintain good relations.
But the Turkish government sees "Islamophobic sentiment" in Germany. Cavusoglu said and blamed the country for pursuing a systematic smear campaign against Turkey, particularly against President Recep Tayyip Erdogan.
There were limits "that may not be overstepped and that include comparisons with Nazi Germany," German minister said referring to Erdogan's earlier statements at which the Turkish president resembled the latest bans on Turkish politicians to practices of "Nazi era".
President Erdogan plans to hold a rally in Germany in upcoming days to drum up support among roughly 1.4 million eligible Turkish voters.