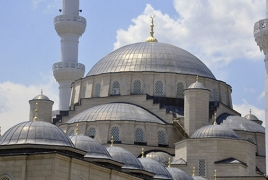 June 26, 2017 - 10:50 AMT
PanARMENIAN.Net - Turkey's Diyanet Foundation has finished building "the biggest mosque of Central Asia" in the Kyrgyz capital Bishkek, Anadolu Agency reports.
The construction of the mosque complex began in 2012, which was designed in accordance with classic Ottoman architecture.
The mosque was built on 35 acres (141,640 square meters) with the capacity to host at least 20,000 worshippers.
The place of worship resembles Ankara's massive Kocatepe Mosque with its many features including a Sadirvan fountain, administrative buildings, a 500-car parking facility, Quran courses, conference hall and cafeteria.
Two huge chandeliers hang from the domes of the mosque that have been decorated with Ottoman handicrafts.
The mosque is considered the biggest in the country as well as in Central Asia.
Construction Supervisor Musa Demirci told Anadolu Agency the construction of the mosque was now complete.
"We are doing cleaning and routine work nowadays, and later we will do environmental planning," Demirci said.
Sheikh Faisal mosque in Pakistan was so far considered the biggest one in Central Asia. Construction of the mosque began in 1976 after a $120 million grant from Saudi King Faisal, whose name the mosque bears.