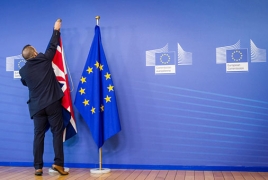 July 17, 2017 - 13:00 AMT
PanARMENIAN.Net - British and European Union envoys on Monday, July 17 began a first round of negotiations on Britain's divorce from the EU with both sides saying it was high time to tackle details, though feuding within the London cabinet over Brexit terms may trouble the process, Reuters says.
With little more than a year to decide the terms before Britain leaves, deal or no deal, on March 30, 2019, the 27 other EU national leaders want British Prime Minister Theresa May to rally her polarised nation - and her fractious cabinet - swiftly behind a clear, detailed Brexit plan.
EU leaders are keen to minimise economic and social disruption across Europe as its second biggest economy cuts loose from the continent after four decades of myriad links.
Chief EU negotiator Michel Barnier will press UK Brexit Secretary David Davis to agree to Britain covering substantial, existing British financial commitments and offer more detail on Britain's approach, clouded by infighting within May's cabinet.
"We made a good start last month but... we are now getting into the substance of the matter," Davis told reporters as he was welcomed at the European Commission in Brussels by Barnier, a little more than a year after Britons voted by a narrow majority to leave the EU.
Davis and Barnier shook hands for the cameras at the European Commission's Berlaymont headquarters before a first full session of a scheduled four days of talks.
"We will now delve into the heart of the matter. We need to examine and compare our respective positions in order to make good progress," Barnier told reporters.
Davis said it was "incredibly important" to make progress, "that we negotiate through this and identify the differences so that we can deal with them and identify the similarities so that we can reinforce them".
"Now it's time to get down to work and make this a successful negotiation," he said before Davis and Barnier headed off for talks.
Both men declined further comment, with Barnier saying they would brief the media on Thursday after their teams have spent four days tackling a range of priority issues.