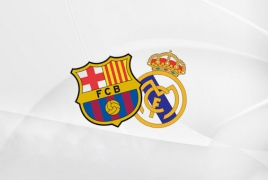 July 29, 2017 - 17:44 AMT
PanARMENIAN.Net - They have played Super Bowls, World Series and NBA championships in Miami but on Saturday, July 29 one of soccer's great rivalries will be the hot ticket when Real Madrid and Barcelona meet in a rare El Clasico away from Spanish soil, Reuters reports.
The match marks just the second time, and first in 35 years, that El Clasico will be played outside Spain. The contest is being given the full Super Bowl treatment with a lavish week-long buildup that includes VIP South Beach parties, celebrity soccer games and even Combate Clasico, an MMA event.
Real Madrid superstar Cristiano Ronaldo will miss the game, organisers confirmed on Friday, robbing the clash of one of its headline players.
But a sellout crowd of over 65,000 is expected at Hard Rock Stadium, home of the National Football League's Miami Dolphins, and resale site StubHub has said the match is the most popular soccer ticket of the season, with prices reaching $5,500 a seat.
Broadcaster ESPN also has big plans, bringing in 25 on-air commentators for what is reported to be the most comprehensive coverage ever of a single soccer match staged in the United States.
Anytime Real Madrid and Barcelona appear on the pitch together, it is a guaranteed ratings hit, routinely pulling in a global audience that dwarfs the Super Bowl.
While the match is little more than a glorified friendly, the romance attached to the rivalry elevates it to a far more compelling sporting spectacle.
Aside from being two of the world's most glamorous clubs they are also two of the most valuable, sitting fourth (Barcelona) and fifth (Real Madrid) on Forbes' most recent evaluations, with a combined worth of $7.22 billion.