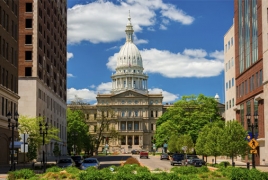 September 28, 2017 - 21:25 AMT
PanARMENIAN.Net - Michigan became the 8th U.S. state to recognize the independent Republic of Artsakh (Nagorno Karabakh) on Thursday, September 28, with the overwhelming bipartisan passage of S.R.99, spearheaded by Senator David Knezek (D – 5th District). The bipartisan measure calls upon the U.S. to establish economic and cultural ties with the Republic and support peace and stability across the South Caucasus, reported the Armenian National Committee of Michigan (ANC-MI).
"The Michigan Senate vote for Artsakh independence represents a resounding reaffirmation of our enduring American commitment to democratic self-determination and an equally powerful blow against Azerbaijani President Ilham Aliyev's ongoing aggression against this peaceful republic," said ANC of Michigan Chair Lara Nercessian. "Armenians from the Great Lakes State and across the U.S. commend Sen. Knezek and his fellow State Senators for standing strong with the people of Artsakh."
"Artsakh's story is a very American story – one of freedom, self-determination, democracy, and peace," said MI State Senator David Knezek. "Michiganders are proud to join Artsakh in saluting these shared values as we work to expand U.S.-Artsakh cultural and economic ties and support a lasting peace in the region."
Senate consideration of the Artsakh independence measure, shared live on the ANCA Facebook page, began at the opening of the September 29th session with remarks by Sen. Knezek and an introduction of Robert Avetisyan, Republic of Nagorno Karabakh Representative to the U.S., who was on hand for the historic vote.
"We would like to thank Senator Knezek for supporting the democratic aspirations of Artsakh and his longtime leadership on the issues of concern to our compatriots living in the Republic," said Avetisyan. "We are grateful to the ANC of Michigan for their tireless efforts in defending Artsakh's security and promoting the international recognition of Artsakh. We hope Michigan's recognition – the eighth U.S. state to do so – will be an example for democratic societies around the world."
Earlier in the morning, members of the ANC of MI, Armenian Relief Society, Hamazkayin Armenian Cultural and Educational Association, and Michigan State House candidate for the 40th District Mari Manoogian joined Senator Knezek, House Representative Klint Kesto (R-39th Dist) and Avetisyan for a breakfast briefing prior to the vote.