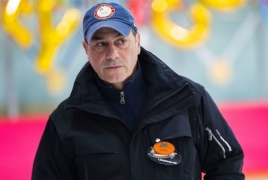 February 5, 2018 - 12:13 AMT
PanARMENIAN.Net - Rafael Arutunian can fix uncomfortable figure skating boots and mend bad jumping habits with equal ease, molding materials and technique with the sureness of a coach who has analyzed axels and scrutinized salchows for 40 years at rinks in Armenia, Russia and the United States, The Los Angeles Times says in an article about the U.S.-based Armenian figure skating coach.
"What makes him so successful is his ability to see into his skaters' minds and hearts and provide the precise motivation they need, a gift whose value goes beyond teaching how to make an efficient entrance to a jump or nail a landing," the article says.
Arutunian, 60, will coach Americans Nathan Chen and Adam Rippon and Czech skater Michal Brezina at the Pyeongchang Olympics, a trio he has coached at the Rinks-Lakewood for nearly two years.
"It's one of the most positive rinks I've skated at," said Chen, a two-time U.S. champion whose ability to reel off difficult quadruple jumps makes him a medal contender at Pyeongchang. "Raf is able to put all of us together on the same ice and we're all very positive toward each other. We all push each other. I'm sure we all would not be the skaters that we are without each other, training side by side every day."
Arutunian has brought the best out in technically strong skaters like Chen and those who lean more on artistry, like Rippon.
Over the years Arutunian has guided world champions and Olympians such as two-time Olympic medalist and five-time world champion Michelle Kwan — who came to him late in her career to fix the fit of her boots but stayed for his advice on her technique — Canada's Jeffrey Buttle, Turin Olympic silver medalist Sasha Cohen, Japan's Mao Asada, and Russia's Alexander Abt.