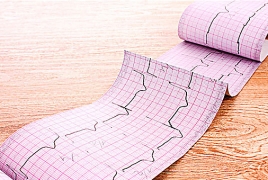 April 6, 2018 - 16:13 AMT
PanARMENIAN.Net - Hypothermia is a killer - but it is believed to have saved the life of a man in his fifties, whose heart stopped for an estimated 18 hours, The Connexion.
The 53-year-old was found by worried family members at the edge of a river in Béziers, hours after he had failed to turn up at his brother's house. He had a cardiac arrest, and his body temperature had dropped to 22 degrees, regional newspaper Midi Libre reports.
Doctors at the CHU in Montpellier said that the staff performed cardiac massage on the patient for a further four hours before his heart started beating on its own again, some 18 hours after he had disappeared.
"The team was amazed," Dr Jonathan Charbit, the head of ICU at the university hospital, told the regional daily. "This gentleman, who had no chance of waking up, is in his bed, alive."
The patient's case is to be published in an international journal.