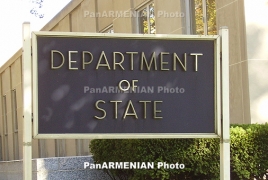 April 25, 2018 - 10:54 AMT
PanARMENIAN.Net - The United States Department of State in a statement on Tuesday, April 24 urged all sides engaged in the two-week peaceful disobedience in Armenia to engage constructively to ensure a peaceful transition of power.
Serzh Sargsyan resigned as Armenia's prime minister under pressure from mass civil unrest, led mainly by young people, in the capital, Yerevan, on Tuesday, April 23.
"The coming days represent a historic moment for the people of Armenia and its elected leaders, as they embark on the process of forming a new government," Department spokesperson Heather Nauert said.
"We urge all sides to engage constructively, within the legal framework of the Armenian constitution, to ensure a peaceful transition of power that follows the rule of law."
Nauert said the U.S. looks forward to working closely with a new government on the many areas of shared interest between the United States and Armenia.
"As a friend and partner to Armenia, we commend the Armenian people for engaging in dialogue to forge their sovereign future through democratic and peaceful means," she added.
Scenes of jubilation were observed throughout Yerevan towards the end of Monday, April 23 after Sargsyan announced his resignation.
Opposition leader from Yelk bloc, founder and head of Civil Contract party Nikol Pashinyan leads the campaign #RejectSerzh against the former president's appointment as prime minister, and against his premiership after he was already appointed to the post.
Serzh Sargsyan on Monday resigned from the prime minister's post, and Pashinyan is now seeking the appointment as prime minister by the National Assembly of what he calls "the people's candidate," the formation of a temporary government and snap parliamentary elections.