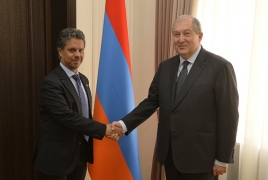 May 4, 2018 - 14:30 AMT
PanARMENIAN.Net - President Armen Sarkissian on Friday, May 4 met the ambassadors of the United Arab Emirates, Egypt and Lebanon and chargés d'affaires of Kuwait and Iraq in Yerevan.
The sides discussed issues concerning the expansion of Armenia's economic relations with each of the countries.
The president thanked the diplomats for the warm attitude towards the Armenian communities in their respective countries, which gives them the opportunity to preserve their national identity, develop and actively participate in the political, social and economic life of those countries.
Also, the parties weighed in on the current political situation in Armenia, with the diplomats expressing hope that everything will be settled within the framework of the Constitution and legitimacy.
A campaign against the Armenian authorities was in full swing across Yerevan and the rest of the republic on Wednesday after the parliament failed to elect opposition leader Nikol Pashinyan as the country's new prime minister on Tuesday.
The founder and head of Civil Contract party and lawmaker from the Yelk bloc, Pashinyan leads the street campaign against the ruling authorities, which has seen thousands of Armenians taking to the streets in massive protests in the past several weeks.
Former prime minister Serzh Sargsyan was forced to resign on April 23, and Pashinyan is now seeking the appointment as prime minister by the National Assembly of what he calls "the people's candidate", - i.e. himself - the formation of an interim government and snap parliamentary elections.
Pashinyan has promised to rid Armenia of corruption and poverty.
Demonstrations have been halted since Thursday after the ruling Republican party of Armenia pledged to support Pashinyan's candidacy.