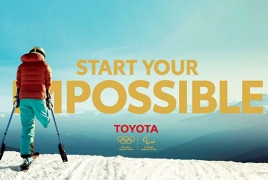 May 25, 2018 - 12:06 AMT
PanARMENIAN.Net - Recently Toyota rolled out a global campaign, "Start Your Impossible", which reflects the Olympic and Paralympic spirit of encouragement, challenge and progress, and which is so close to Toyota's global vision and way of thinking.
Many interesting projects worldwide have already been launched since Toyota entered into a global partnership with International Olympic and Paralympic committees.
Indeed, Toyota's philosophy of Ever Better Mobility for All aims to transform the way people move through the world. And in doing so, it creates solutions to the mobility barriers that limit human potential – from optimized public transportation systems for large cities to individual solutions for people with physical challenges.
Toyota believes that 'mobility' goes well beyond cars and that movement is a human right. Hence this campaign, and worldwide partnership with The International Olympic and Paralympic Committees, are a reflection of Company's commitment of providing freedom of movement for all. "'Start Your Impossible" tells the stories of exceptional human strength and triumph and motivates for daring.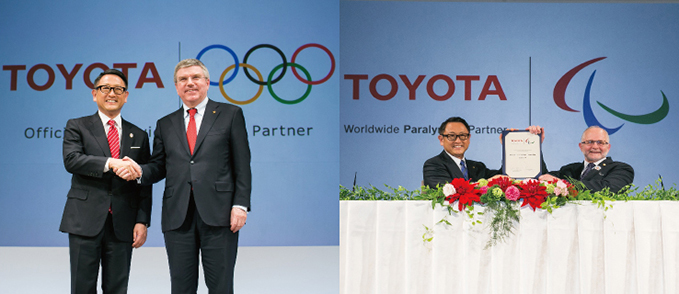 "Start Your Impossible" is a global corporate initiative that aims to inspire Toyota employees, partners and customers, and connect them with the company's core beliefs," said Noriaki Yamashita, General Manager of Sales & Marketing Support Division, Toyota Motor Corporation.
"Start Your Impossible" shares Toyota's evolution by highlighting real-life mobility stories of Olympic and Paralympic athletes as well as everyday athletes who demonstrate the values of humility, hard work and never giving up. The campaign marks Toyota's long-term commitment to support the creation of a more inclusive and sustainable society in which everyone can challenge their impossible through stories of determination as well as through Toyota technologies. The two creative pillars of the multi-platform global campaign include, "inspiration," which celebrates the human spirit and product "evidence," showcasing Toyota's ideas for innovations that can help people move freely.
Toyota has recently launched a website – MobilityForAll.com. In consultation with the National Center for Accessible Media (NCAM) in the United States, the website (which will be rolled out in phases) is built to be accessible for users with various impairments and to allow all users to experience the site's content. Whether set to default, visually impaired, hearing impaired, mobility impaired or cognitively impaired, all coding and design features will work to make the experience equally enjoyable for all users.
You may find some emotional videos linked to this campaign on following web-site.