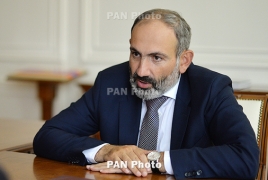 June 26, 2018 - 12:57 AMT
PanARMENIAN.Net - The rate of ceasefire violations by Azerbaijan has declined to an unprecedented level against the previous years, Armenian Prime Minister Nikol Pashinyan said on Monday, June 25 when responding to questions posted on Facebook by social media users.
"According to statistics, ceasefire violations have fallen to an unprecedented law, to the levels of the early 2000s," the Prime Minister said.
Pashinyan said while there are some accumulations of Azerbaijani troops near the frontline, "they (the accumulations - Ed.) sometimes grow and then decline."
"There is some tension in the direction of Nakhijevan. Immediately after my election as Prime Minister I ordered the Armed Forces to remain vigilant at all times," he said.
"I can't say, however, that we are dealing with a never-before-seen situation. For us, this has been a familiar and ordinary situation for years."
Weighing in on the probability of resumption of hostilities in Nagorno Karabakh, Pashinyan said Armenia must always be ready for all kinds of developments.
The Azerbaijani army initiated an attempted subversive attack on the contact line with Karabakh on June 17. The Karabakh troops, however, took the necessary measures to thwart the attack and threw the saboteurs back to their positions. The situation along the contact line changed in the period between June 17 and 23. In particular, an RPG-7 grenade launcher has been used by Azerbaijan in some sections of the frontline.