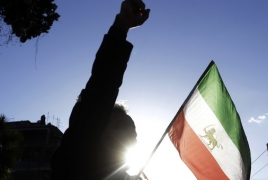 July 21, 2018 - 14:30 AMT
PanARMENIAN.Net - Iranian hackers have laid the groundwork to carry out extensive cyberattacks on U.S. and European infrastructure and on private companies, and the U.S. is warning allies, hardening its defenses and weighing a counterattack, say multiple senior U.S. officials, NBC News reports.
Despite Iran having positioned cyber weapons to carry out attacks, there is no suggestion an offensive operation is imminent, according to the officials, who requested anonymity in order to speak.
Cyber threats have been a major theme of the 2018 Aspen Security Forum, with administration officials from Director of National Intelligence Dan Coats, FBI Director Chris Wray, and Deputy Attorney General Rod Rosenstein all warning of the pervasive danger from Russia, China, Iran, and North Korea.
In Aspen Thursday, Coats said that Russia was a more active cyber foe than Iran or China — "by far" the most aggressive, he said.
While Russia may be the most aggressive, the U.S. officials said Iran is making preparations that would enable denial-of-service attacks against thousands of electric grids, water plants, and health care and technology companies in the U.S., Germany, the U.K. and other countries in Europe and the Middle East.
A spokesperson for the Iranian mission to the United Nations charged the U.S. is the aggressor in the cyber domain. "Iran has no intention of engaging in any kind of cyber war with the U.S.," the spokesperson, Alireza Miryousefi, said in a statement. "Frankly, from our perspective, it's more likely the U.S. wants the supposed suspicion of an attack as rationalization for a cyberattack against Iran."
"The U.S. is the most belligerent cyber attacker of any nation in the world, repeatedly attacking military and civilian targets across the world including in Iran," said Miryousefi. "The U.S. has also undermined international efforts to establish global rules surrounding cyber issues. While we cannot comment on specific cyber capabilities or operational detail, we can say that our cyber activities are defensive in nature and necessary for our country's protection."
A spokesperson for the National Security Council declined to comment.
The U.S. has not yet decided whether it will retaliate in the event of an attack, according to U.S. officials, but the White House has already begun to ready new sanctions against Tehran and continues to amp up its anti-Iran rhetoric as it builds a case for its more confrontational stance.
President Donald Trump withdrew the U.S. from the multinational 2015 nuclear deal with Iran in May, and the U.S. government has warned that if other nations follow suit Iran could retaliate in the cyber domain. Though Iranian hackers have previously probed U.S. infrastructure, targeting U.S. electrical grids alone would mark a significant escalation in Iran's use of cyber-warfare to date.