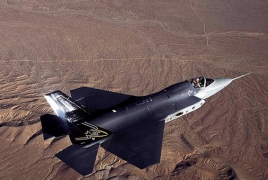 July 25, 2018 - 11:21 AMT
PanARMENIAN.Net - With the finalization of a sweeping defense policy bill, U.S. Congress is a step closer to blocking Turkey from acquiring U.S.-made fighter jets, a big priority for some lawmakers looking to rebuke the country's human rights abuses but which administration officials have warned could have unforeseen consequences, ABCNews reports.
Sens. Jeanne Shaheen, D-N.H., and Thom Tillis, R-N.C., Tuesday hailed the inclusion of their amendment in the annual National Defense Authorization Act delaying the delivery of F-35 Joint Strike Fighter aircraft to Turkey until the Pentagon delivers a report to Congress that includes an assessment of Turkey's potential purchase of Russia's S-400 air and missile defense system and the effect of such a purchase on U.S.-Turkey relations.
U.S. lawmakers have expressed concerns about Turkish Prime Minister Recep Tayyip Edrogan's embrace of authoritarianism within Turkey, exemplified in last week's post-inaugural strengthening of his own executive power.
But they have said the measure in the defense bill is a response specifically to his imprisonment of U.S. pastor Andrew Brunson and other Americans who lawmakers say are being unjustly held.
"Senators Shaheen and Tillis felt it inappropriate and dangerous to send Turkey F-35 aircraft at this time, while the Turkish government continues to wrongfully imprison Americans and U.S. embassy staff," Shaheen's staff wrote in a statement.
Tillis said in a statement, "The NDAA sends a crystal clear message to President Erdogan that the United States expects Turkey to uphold its obligations as a NATO ally, including respecting the due process rights of American citizens."
Shaheen has also noted that the F-35 sales are incompatible with the air defense system Turkey is contemplating purchasing from Russia.
"There is tremendous hesitancy [about] transferring sensitive F-35 planes and technology to a nation who has purchased a Russian air defense system designed to shoot these very planes down," Shaheen told Reuters previously.
Defense Secretary James Mattis has expressed sympathy for lawmakers' concerns about Turkey's abysmal human rights record and their potential purchase of the Russian defense system, which he said Washington was pushing Ankara not to acquire. But has also warned Congress not to restrict the F-35 sales.
In a letter to Rep. Mac Thornberry, R-Texas, earlier this month, Mattis wrote that "removing Turkey could trigger a supply chain disruption for the US military and our partners, as well as increase other program costs," according to a copy of the letter obtained by CNN.