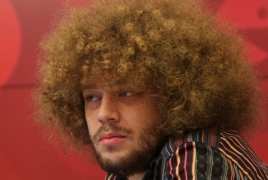 November 3, 2018 - 10:56 AMT
PanARMENIAN.Net - Russian blogger Ilya Varlamov was recently denied entry to Azerbaijan but was not offered any explanation over such a decision, Varlamov himself said in his blog.
"The girl at passport control immediately put my passport aside and called for reinforcement. They began to make some calls, and I was sent to wait on the bench. Two hours later, the head of the border guard approached and said that there were questions about me and that I had to wait," Varlamov said.
"Another 30 minutes later I was told that "my presence in Azerbaijan is undesirable." No reasons were provided. The authorities instructed [the border control] to not let me in, and now they are deporting me."
According to Varlamov, he could return to Russia at the expense of the airline only in a day, so he decided to buy a ticket to Istanbul himself.
"I will immediately answer your questions: I have never visited Nagorno Karabakh, I have not violated the legislation of Azerbaijan. Perhaps the reason is my old posts about Baku. But the Azerbaijani Foreign Ministry knows better what they were offended of."
Russian-Israeli blogger Alexander Lapshin was detained in Minsk and sent to Baku for visiting Karabakh. He was then arrested, imprisoned, but was later extradited to Israel.