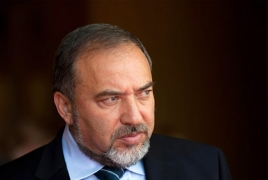 November 14, 2018 - 16:49 AMT
PanARMENIAN.Net - Israel's hawkish Defense Minister Avigdor Liberman announced his resignation from the government Wednesday, November 14, citing his opposition to a cease-fire with Hamas a day after the worst outbreak of violence with the Islamist militant group running the Gaza Strip since a 50-day war in the summer of 2014, The Washington Post reports.
The cease-fire announced by Hamas Tuesday night, was still holding Wednesday even though there was no official Israeli confirmation it had been accepted. Residents of the southern Israeli communities, the target of more than 400 rockets fired by militants in the Gaza Strip Monday night and Tuesday, protested at what they called the government's capitulation to Hamas.
In a televised news conference, Liberman, who became defense minister in 2016, also cited his displeasure with accepting the terms of the Hamas requested cease-fire.
"What happened yesterday with the cease-fire and the entire process of reaching an agreement with Hamas amounts to surrendering to terror, there is no other explanation," Liberman said. " What we have done recently is buy quiet for the short term but we will end up paying a high price for our long term quiet."
He said his resignation comes after weeks of disagreement with Prime Minister Benjamin Netanyahu over a course of action on how to handle ongoing tensions with the coastal Palestinian enclave, whose Hamas rulers have called Israel's destruction.
With Liberman's departure, it is likely that Netanyahu will call for new elections to shore up his support as leader. Political analysts and media commentators have long suspected him of wanting to hold elections before his full term in office ends in another year.
Even though he heads a stable, right-wing coalition, a win sooner rather than later might help distract attention from the ongoing criminal investigations against him, which look set to bring an indictment that could possibly lead to a very public trial.
Netanyahu, who in recent days stated he does not believe there is a diplomatic solution to Gaza and has, at the same time resisted military action, held a marathon meeting with his security cabinet, including Liberman, through much of the day Tuesday. A meager statement following the meeting said only that the Israeli military had been "instructed to continue its operations as necessary." Israeli news outlets later reported that a cease-fire had been agreed to.