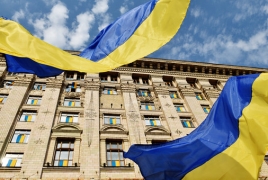 November 27, 2018 - 12:08 AMT
PanARMENIAN.Net - Ukraine's parliament voted Monday, November 26 to impose martial law in parts of the country to fight what its president called "growing aggression" from Moscow after a weekend naval confrontation off the disputed Crimean Peninsula in which Russia fired on and seized three Ukrainian vessels amid renewed tensions between the neighbors, TIME reports.
Western leaders and diplomats urged both sides to de-escalate the conflict, and the U.S. blamed Russia for what it called "unlawful conduct" over Sunday's incident in the Black Sea.
Ukrainian President Petro Poroshenko asked lawmakers in Kiev to institute martial law, something the country did not do even during the worst of the fighting in the east that killed about 10,000 people.
After a five-hour debate, parliament overwhelmingly approved his proposal, voting to impose martial law for 30 days starting Wednesday morning in 10 of Ukraine's 27 regions — those bordering Russia, Belarus and Moldova's pro-Moscow breakaway republic of Trans-Dniester. The locations chosen were ones that Poroshenko identified as potentially in the front line of any Russian attack. The capital of Kiev is not under martial law.
Poroshenko said it was necessary because of intelligence about "a highly serious threat of a ground operation against Ukraine." He did not elaborate.