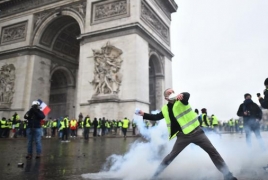 December 3, 2018 - 11:37 AMT
PanARMENIAN.Net - One of France's most revered monuments, the Arc de Triomphe, was stormed and vandalised on Saturday, December 1 during the 'Yellow Vest' demonstrations, in one of the worst instances of unrest Paris has seen since the protests and riots of 1968, France 24 reports.
The interior of the Arc de Triomphe, the 19th-century arch that towers over the Tomb of the Unknown Soldier at the western end of Champs Elysées, was ransacked. The statue of the Marianne, the symbol of the French republic, in display at the entrance of the Arc de Triomphe museum was smashed. A video shared on Facebook shows most of the front of the statue hacked off, while several other men, dressed with yellow vests, are being filmed repeatedly hitting other artefacts with hammers.
While protests degenerated in some places into scenes of destruction and fires, graffiti was scrawled over the Arc, reading "Macron resign" and "the yellow vests will triumph."
Such was the shock over the desecration of this monument that, on his return from the G20 summit in Argentina, French President Emmanuel Macron went immediately to visit the Arc on Sunday.
The Arc de Triomphe is so revered because it stands over the tomb of the unknown soldier, which commemorates the 1.4 million French soldiers who died during the First World War, covered by a granite slab bearing the statement: "Here rests a French soldier who died for his country, 1914-1918".
The granite slab bearing this epitaph is installed under the monument. A flame burns in front of the tomb to symbolise France's commemoration of the fallen soldiers.
It was lit for the first time on Armistice Day 1923 by the then minister of war André Maginot. It has burned ever since, relit in a ceremony every evening. The French army announced that – after the violence prevented the fire from being relit on Saturday night – the ceremony will resume on Sunday evening.
On Sunday, workmen in the upper-crust district of central Paris set about cleaning the defaced Arc, removing charred hulks of cars and replacing the shattered windows of banks, restaurants and luxury boutiques on the streets around the monument.
Paris was not the only part of the country to see outbursts of violence. There were also disturbances in several cities and towns across France - from Charleville Mézières in the northeast to Nantes in the west and Marseille in the south.