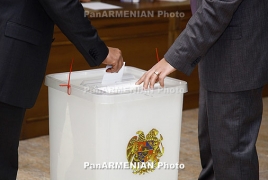 December 9, 2018 - 08:11 AMT
PanARMENIAN.Net - Polling stations opened across Armenia as the country is holding early parliamentary elections on Sunday December 9 triggered by acting Prime Minister Nikol Pashinyan.
Pashinyan swept to power after months of peaceful protests and a civil disobedience campaign as tens of thousands of people took to the streets across the country demanding the resignation of former authorities.
Election campaign launched across Armenia on November 26 with leaders of parties and alliances traveling to the various provinces of the country for 12 days through December 7.
Eleven political forces are running in elections, including two blocs - Im Kayl "(My Step) and Menk (We) - as well as nine parties - Prosperous Armenia, National Progress, Christian Democratic Revival, Sasna Tsrer, Rule of Law, the Armenian Revolutionary Federation, Bright Armenia, the Republican Party of Armenia, Citizen's Decision Social-Democratic Party.
Pashinyan resigned on October 16 after sweeping to power back in May.
My Step, led by Pashinyan himself, is expected to get a majority in the new legislature.