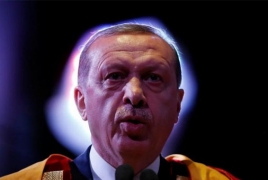 September 6, 2019 - 18:10 AMT
PanARMENIAN.Net - Turkish President Recep Tayyip Erdogan on Thursday, September 5 threatened to reopen a route for Syrian refugees to reach Europe if it does not receive more support for a a resettlement plan centered on northern Syria, Deutsche Welle reports.
Erdogan has urged the US to take further action on establishing a so-called safe zone in northeast Syria, where Washington has a military presence in support of a Kurdish-led force fighting the "Islamic State" militant group.
"This either happens or otherwise we will have to open the gates," said Erdogan. "Either you will provide support, or excuse us, but we are not going to carry this weight alone. We have not been able to get help from the international community, namely the European Union."
The Turkish government has said it intends to settle up to 1 million refugees in northern Syria. But critics say refugees should be resettled in their hometowns.
"Settling hundreds of thousands of Syrians, who are from outside our areas, here would be unacceptable," said Syrian Kurdish official Badran Jia Kurd, referring to northeastern Syria.
Turkey considers Syrian Kurdish fighters near the border a threat to national security. Earlier this year, Erdogan had threatened further incursions into the Kurdish-held area if the US did not take proactive steps to establish a safe zone.
"This looks like an attempt to build pressure for more US concessions on the safe zone, where some refugees could then be resettled for purposes of domestic public relations" by Turkey, said Nicholas Danforth, a senior visiting fellow at the German Marshall Fund.