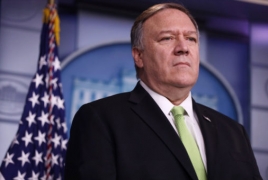 July 8, 2020 - 17:09 AMT
PanARMENIAN.Net - U.S. Secretary of State Mike Pompeo has said that the country is "looking at" banning TikTok and other Chinese social media apps over national security concerns. His remarks come as India banned the app and Australia is considering it, CBS reports.
In an interview with Fox News Channel's Laura Ingraham, Pompeo said "we're certainly looking at it" when it comes to banning TikTok and other Chinese apps.
"With respect to Chinese apps on people's cell phones, I can assure you the United States will get this one right too, Laura," he said. "I don't want to get out in front of the President [Donald Trump], but it's something we're looking at."
Pompeo said he doesn't recommend downloading the app unless "you want your private information in the hands of the Chinese Communist Party."
TikTok also confirmed Tuesday it stopped operations of the app in Hong Kong in wake of the new China-backed security law that would ban treason, secession, sedition and subversion in the semi-autonomous city. There are fears China will use the law to severely erode the freedoms Hong Kong has enjoyed under the "one country, two systems" framework.