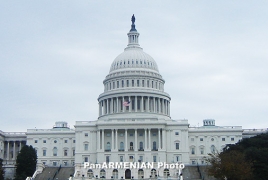 July 24, 2020 - 10:31 AMT
PanARMENIAN.Net - The U.S. House cast a powerful vote in support of Artsakh aid on Thursday, July 23, adopting a bi-partisan amendment led by Congressional Armenian Caucus Co-Chair Jackie Speier (D-CA), Representatives TJ Cox (D-CA), Gus Bilirakis (R-FL), Raja Krishnamoorthi (D-IL) and more than 35 of their House colleagues to continue life-saving demining assistance in Nagorno Karabakh, reported the Armenian National Committee of America (ANCA).
The vote represents a powerful rebuke to the Azerbaijani government-driven, State Department-supported effort to end Artsakh's demining program, despite its remarkable record of having removed tens of thousand of landmines and saving countless lives.
"Saving lives and limbs in Artsakh - that is what Congress did today - with the united effort of thousands of ANCA supporters around the country," said ANCA Chairman Raffi Hamparian. "The ANCA thanks Congresswoman Speier and her colleagues - Democrats and Republicans - who faced down a blizzard of vicious attacks by Azerbaijan and its allies."
The bi-partisan Artsakh (Nagorno-Karabakh) aid amendment to H.R.7608 was adopted as part of a larger "en bloc" group of amendments backed by the House majority. As is often the case in the U.S. House, this "en bloc" was approved on a party line vote.
The Artsakh amendment calls for $1.4 million in U.S. aid for the continuing life-saving de-mining efforts of The HALO Trust.
Continued aid to Artsakh to support demining and rehabilitation efforts has been a key part of the ANCA's 360-degree policy priorities to ensure Artsakh security and freedom. The United States has been funding humanitarian programs in Artsakh since 1998, providing clean water to rural communities, support for maternal and child health, and life-saving demining assistance. Through ANCA-supported Congressionally-mandated U.S. assistance, The HALO Trust has been de-mining in Artsakh since 2001. Since then, they have cleared 61,000 landmines and explosive hazards and transformed 62,000 acres of former minefields into land available for productive use and recreation. Just as importantly, U.S. assistance has provided mine risk education to each student in Karabakh since 2003.