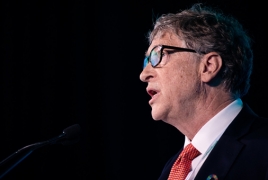 August 10, 2020 - 12:28 AMT
PanARMENIAN.Net - Microsoft co-founder Bill Gates has warned against using vaccines without the full regulatory review, when speaking about China and Russia.
His estimate on when the coronavirus crisis will end varies based on whether you live in the developing world or in wealthier countries such as the United States..
"The innovation pipeline on scaling up diagnostics, on new therapeutics, on vaccines is actually quite impressive," Gates told Wired magazine in an interview. "And that makes me feel like, for the rich world, we should largely be able to end this thing by the end of 2021, and for the world at large by the end of 2022."
"In China and Russia they are moving full speed ahead. I bet there'll be some vaccines that will get out to lots of patients without the full regulatory review somewhere in the world," Gates said in the interview.
There are now more than 19.8 million cases of the novel coronavirus worldwide, including over 12 million recoveries and 731,000 deaths, according to Johns Hopkins University, which is tracking figures from the World Health Organization and additional sources.