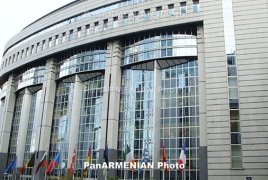 August 17, 2020 - 18:04 AMT
PanARMENIAN.Net - The United Kingdom and members of the European Parliament do not recognize the results of the Belarusian presidential election,
Belarusian President Alexander Lukashenko is now a persona non grata in the EU, according to a joint statement by European Parliament's parties published on Monday, August 17.
"The 9th August presidential elections were neither free, nor fair, and credible reports point to a victory of Svetlana Tikhanovskaya. We therefore do not recognise Alexander Lukashenko as the re-elected President of Belarus and consider him a persona non grata in the European Union. We join the Belarusian people in their demand for new and free elections, under the supervision of independent observers," the EP statement reads.
"We strongly condemn the arrests and appalling acts of violence and torture perpetrated against peaceful protesters, and call for a full investigation of these crimes, which cannot go unpunished. In this regard, we remind Alexander Lukashenko of his responsibility," members of the European Parliament stressed. "We strongly condemn the suppression of internet and media, road blockades, and intimidation of journalists in order to stop the flow of information about the situation in the country. We call for the immediate release of all those arbitrarily detained, and political prisoners who have been detained before and during the election campaign."
Foreign Secretary Dominic Raab has stated the UK does not accept the results of the Belarusian Presidential elections either.
"The world has watched with horror at the violence used by the Belarusian authorities to suppress the peaceful protests that followed this fraudulent Presidential election. The UK does not accept the results. We urgently need an independent investigation through the OSCE into the flaws that rendered the election unfair, as well as the grisly repression that followed. The UK will work with our international partners to sanction those responsible, and hold the Belarusian authorities to account," Raab said in a statement on Monday.
Tikhanovskaya, a 37-year-old political novice who ran after other potential candidates including her husband were jailed, accuses Lukahsenko of rigging the election and has called for a new vote.
Since leaving for neighbouring Lithuania last week, under pressure from the government, she has been calling for demonstrations and justice for a brutal police crackdown on protesters.