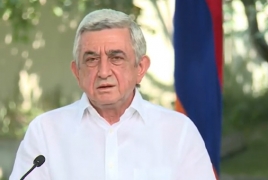 August 19, 2020 - 13:50 AMT
PanARMENIAN.Net - Former Armenian President Serzh Sargsyan has revealed why Armenia did not deploy Iskander ballistic systems against Azerbaijan during the Four Day War in April 2016.
Azerbaijan launched a large-scale military offensive across the entire line of contact with Nagorno Karabakh (Artsakh). Clashes that began in the wee hours of April 2 in 2016 lasted four days and were later dubbed the Four-Day War or the April War.
Sargsyan said Wednesday, August 19 that the Iskander systems were not used because the four-day offensive in April 2016 was not a large-scale war, but a large-scale military operation.
"If we deployed the Iskanders then, it would resemble shooting sparrows with cannons," Sargsyan told reporters.
"The Iskander is a very powerful weapon, its primary mission is to restrain the enemy."
The ex-President also said that Armenia is obliged to recognize the independence of Nagorno Karabakh in the event of a large-scale war. According to him, if the April War continued beyond four days, his government would recognize Karabakh's independence.