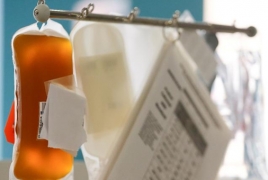 August 24, 2020 - 11:38 AMT
PanARMENIAN.Net - The U․S․ Food and Drug Administration (FDA) has given emergency authorisation for the use of plasma to treat coronavirus patients, the BBC reports.
The technique uses antibody-rich blood plasma from people who've recovered from the disease, and has already been used on over 70,000 people in the U.S.
President Donald Trump said the treatment could reduce deaths by 35%.
It comes a day after he accused the FDA of impeding the rollout of vaccines and therapeutics for political reasons.
The announcement comes on the eve of the Republican National Convention, where Trump will launch his campaign to win a second term in the White House.
"This is what I've been looking forward to doing for a long time," the president told reporters on Sunday. "I'm pleased to make a truly historic announcement in our battle against the China virus that will save countless lives."
President Trump described the procedure as a powerful therapy and he appealed for Americans to come forward to donate plasma if they've recovered from Covid-19.
The FDA has given the treatment "emergency use authorisation", rather than full approval, saying that early research suggests blood plasma can decrease mortality and improve patient health if it's administered within the first three days of their hospitalisation. However, more trials are needed to prove its effectiveness.