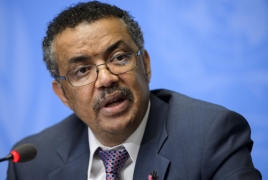 August 28, 2020 - 11:51 AMT
PanARMENIAN.Net - Billions of people around the world have been affected by the Covid-19 pandemic, which is having a further impact on people's mental health," the World Health Organization, United for Global Mental Health and the World Federation for Mental Health announced on Thursday, August 28.
Mental health is one of the most neglected areas of public health. Close to 1 billion people are living with a mental disorder, 3 million people die every year from the harmful use of alcohol and one person dies every 40 seconds by suicide.
"Relatively few people around the world have access to quality mental health services. In low- and middle-income countries, more than 75% of people with mental, neurological and substance use disorders receive no treatment for their condition at all. Furthermore, stigma, discrimination, punitive legislation and human rights abuses are still widespread," the organizations said.
"The limited access to quality, affordable mental health care in the world before the pandemic, and particularly in humanitarian emergencies and conflict settings, has been further diminished due to Covid-19 as the pandemic has disrupted health services around the world. Primary causes have been infection and the risk of infection in long-stay facilities such as care homes and psychiatric institutions; barriers to meeting people face-to-face; mental health staff being infected with the virus; and the closing of mental health facilities to convert them into care facilities for people with Covid-19."