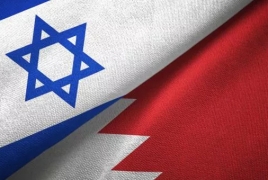 September 12, 2020 - 10:28 AMT
PanARMENIAN.Net - U.S. President Donald Trump announced on Friday, September 11 that Bahrain would establish full diplomatic relations with Israel, following the United Arab Emirates, The New York Times reports.
Trump announced the news on Twitter, releasing a joint statement with Bahrain and Israel and calling the move "a historic breakthrough to further peace in the Middle East." Speaking to reporters, the American president said the anniversary of the September 11, 2001, terrorist attacks was a fitting day for the announcement.
"There's no more powerful response to the hatred that spawned 9/11," he said.
The announcement came after a similar one last month by Israel and the United Arab Emirates that they would normalize relations, on the condition that Prime Minister Benjamin Netanyahu of Israel not follow through with plans to annex portions of the West Bank. Trump administration officials said they hoped that agreement would encourage other Arab countries with historically hostile — though recently thawing — relations with Israel to take similar steps.
Israel would always welcome the addition of another Arab country to the short list of those with diplomatic ties, but in Jerusalem the announcement landed with neither the surprise nor the weight of the Emirati decision.
"Any Arab country is very important, for sure," said Amos Gilead, a retired Israeli major general who leads the Institute for Policy and Strategy at the Interdisciplinary Center Herzliya. "It's another precedent. But with all due respect, when you are small, you are small."