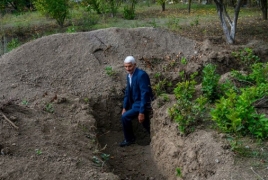 October 15, 2020 - 13:29 AMT
PanARMENIAN.Net - Azerbaijan dug trenches in front of civilian homes in border settlements at least a month before starting a war against Nagorno-Karabakh, a fresh article by AFP reveals.
"These men came about one or two months ago and started digging," a residents of the village of Bakharly named Bayran Khalilov said in front of an L-shaped trench as wide as his narrow frame and deep enough to cover him standing.
"They said it was for your own basic safety. But we all then knew something was about to start," the man said.
Khalilov's account suggests that Azerbaijan had preparing for the heavy fighting weeks before unleashing an offensive.
Azerbaijan, with help from Turkey and Syrian and Libyan mercenaries deployed by Ankara, started a war against Karabakh (Artsakh) in the morning of September 27. The Armenian side has reported deaths and injuries both among the civilian population and the military. Foreign and local journalists too have been injured in Azeri shelling of towns and villages.
Donations can be made to Hayastan All-Armenian Fund, which has launched a fundraising campaign to support humanitarian efforts in Karabakh.