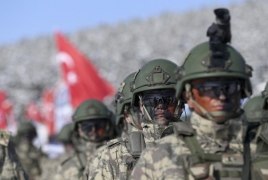 October 16, 2020 - 23:43 AMT
PanARMENIAN.Net - A significant number of Turkish servicemen have remained in Azerbaijan after joint military drills this summer, to coordinate and direct the planning and execution of the offensive operations against Nagorno-Karabakh, Kommersant reports citing military diplomatic sources.
According to the sources, 600 servicemen have stayed behind, including a battalion tactical group of 200 people, 50 instructors in Nakhijevan, 90 military advisers in Baku, 120 flight personnel at the Gabala airfield; 20 drone operators at the Dollyar Air Base, 50 instructors at the Yevlakh airport, 50 instructors in the 4th Army Corps and 20 others at the naval base and at the Heydar Aliyev military school in Baku.
Also in Azerbaijan are 18 Turkish infantry fighting vehicles, one multiple launch rocket system, 10 vehicles and up to 34 aircraft (including 6 warplanes, 8 helicopters, up to 20 drones) for providing military intelligence both in Karabakh and in Armenia.
The sources also said during the first week of October that up to 1300 Syrian militants and 150 Libyan mercenaries were deployed to Azerbaijan to fight against Karabakh.
Azerbaijan, with help from Turkey and Syrian and Libyan mercenaries deployed by Ankara, started a war against Karabakh (Artsakh) in the morning of September 27. The Armenian side has reported deaths and injuries both among the civilian population and the military. Foreign and local journalists too have been injured in Azeri shelling of towns and villages.