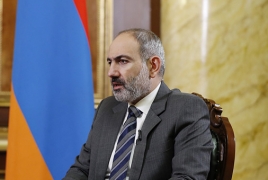 November 3, 2020 - 12:56 AMT
PanARMENIAN.Net - Armenian Prime Minister Nikol Pashinyan has suggested that Israel send humanitarian aid to mercenaries and terrorists fighting for Azerbaijan "as a logical continuation" of its activity.
Israeli President Reuven Rivlin, soon after Armenia recalled its ambassador, called his Armenian counterpart Armen Sarkissian and offered humanitarian aid.
In an interview with the Jerusalem Post, Pashinyan was asked whether his country would be interested in Israeli humanitarian aid: "Humanitarian aid by a country that is selling weapons to mercenaries, which they are using to strike a civilian peaceful population? I propose that Israel send that aid to the mercenaries and to the terrorists as the logical continuation of its activities."
Pashinyan said Israel has lined up with Turkey, terrorists and Syrian mercenaries in backing Azerbaijan in its aggression against Nagorno-Karabakh, and will eventually suffer the consequence of that unholy alliance.
"I think that Israel should think about the following," the prime minister said. "Mercenaries, Islamic terrorists and Israel are now on the same side basically. So Israel should think, is this really a convenient position for it to be?"
Pashinyan said it was only a matter of time before Turkey's "imperialistic ambition" will be aimed toward Israel.
Asked if he was warning that at some point Turkey would mobilize Syrian mercenaries to march on Jerusalem, the prime minister said he was not warning about anything specific, but rather about the creation of a "political environment and political atmosphere, and the gaps which have emerged in the international security system. And if there are gaps, corridors and loopholes, somebody will try to pass through them. And this won't necessarily be in one area, or in two areas, there will be traffic in all possible directions."
Azerbaijan, with help from Turkey and terrorist mercenaries deployed by Ankara, started a war against Karabakh (Artsakh) in the morning of September 27. The Armenian side has reported deaths and injuries both among the civilian population and the military. Foreign and local journalists too have been injured in Azeri shelling of towns and villages.