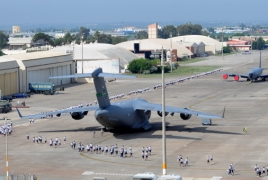 November 3, 2020 - 18:49 AMT
PanARMENIAN.Net - The United States is looking at opportunities for rotational U.S. presence across the European continent, said Department of State Bureau of Political-Military Affairs Assistant Secretary, R. Clarke Cooper, on a conference call on Monday, November 2, after a trip he made to Greece, the Republic of Cyprus, and Bulgaria.
Cooper's comments came in response to a question about whether the U.S. has eyed any potential alternatives to Incirlik Air Base in Turkey, as he had mentioned earlier that part of this trip was looking at things five, ten years down the road.
"When we talk about looking at opportunities, I would open up the aperture, to use a military term, as far as looking at where we could have a U.S. presence either in a rotational fashion – we already do in Novo Selo Training Area. That's a good example where there's already a persistent rotational presence. But we are certainly looking at where we could do that elsewhere across the continent," Cooper said.
"So it's not unusual to be seeing officials like myself actually taking some time to do some site assessments. We, of course, want to see where we've invested some of our security assistance to improve facilities for sovereign use by allies and partners.
"I would offer that when we talk about presence, it doesn't always have to necessarily translate to PCSing, or Permanent Change of Station, or residency, but there is certainly a broad, deep look across the entire what one would call the European geographic combatant command as far as where we need to be and where we may need to be in the future."
Relations between Washington and Ankara have soured over a number of issues. While media publications have suggested the United States' intention to leave the Incirlik base in Turkey, no official confirmation has been provided.