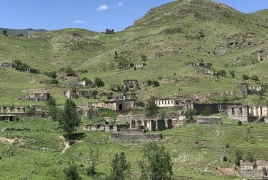 November 24, 2020 - 15:16 AMT
PanARMENIAN.Net - Turkish authorities have recently opened two offices in the center of the occupied Kurdish region of Afrin in northern Syria, for the registration of families wishing to move to and settle in the Nagorno Karabakh region, Afrinpost reports citing sources familiar with the matter.
The sources confirmed that both offices are located in buildings that also serve as centers for the Turkish intelligence.
The sources indicated that the two offices are witnessing a turnout of Turkmen families, especially those from the province of Homs, and family data are taken in preparation for transferring them to the Karabakh region.
Sky News Arabia reports too that the Turkish government has already transferred dozens of Arab and Turkmen families from the areas under its control in northeastern Syria toareas from which the Armenian forces have withdrawn, seeking to change the demographic balance in the region.
Şivan Xaburî, the Representative of the Self-Administration of North and East of Syria, said he has obtained concrete information regarding the Turkish authorities' transfer of Syrian families to the Karabakh region.
Al-Khabouri noted that there is nothing new about such a demographic change for the Turkish government, which has previously applied the practice in Afrin where less that 7% of its original inhabitants currently live.
In the war that lasted 44 days, Turkey supported Azerbaijan militarily, also by transferring terrorist mercenaries from Libya and Syria to fight against Karabakh. Armenia was the first to report on Turkey's deployment of thousands of Syrian fighters to Azerbaijan. International media publications followed suit, as did reactions from France, Russia, Iran and Syria. The Nagorno-Karabakh Defense Army has unveiled footage of the interrogation of two such terrorists captured on the front.
Armenian Prime Minister Nikol Pashinyan, Russian and Azerbaijani Presidents Vladimir Putin and Ilham Aliyev on November 10 signed a statement to end the war in Karabakh after almost 45 days. Under the deal, the Armenian side is returning all the seven regions surrounding Nagorno-Karabakh, having lost a part of Karabakh itself in hostilities.